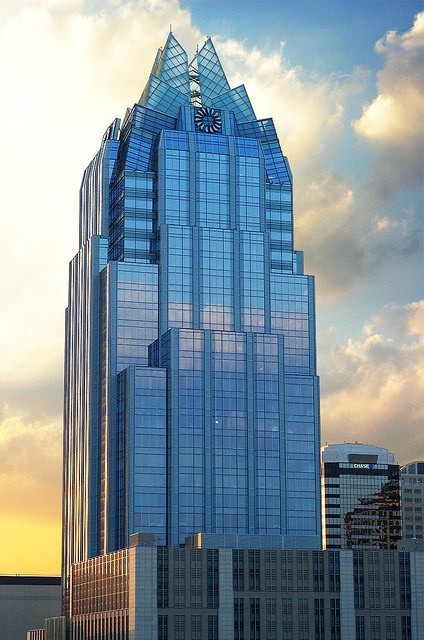 The Frost sits at 300 feet in height, it is the 11th tallest in the city. In this image is historic Tower Life building, along with the tallest. While falling behind the Austonian and the 360 Condominiums in terms of height, the Frost Bank Tower stands out more due to its iconic architectural. For the San Antonio skyscraper, see Frost Tower. Frost Bank Tower was soon surpassed in height by the 360 Condominiums at 581 ft (177 m).
Frost bank tower san antonio height -
Posted
Jul 19, 2019, 4:04 AM
No pets allowed

Join Date: Jul 2001

Location: art deco gateway

Posts: 54,510
Quote:
Originally Posted by
Restless One
Intuitively, I'd agree. Also, the Broadway seems to be on lower ground. Did they say 368' from the ground, or from River level? I know it sounds like a funny question, given the Towers' distance from the river, but you never know.

I don't remember them mentioning the river. I had emailed them with the question and they went a step further and sent me an information packet about the residences, and they included a note with the height.

I also don't think that the old Frost Bank Tower is 300 feet. I'm not sure where that height came from officially. Where I got it from was from a friend from Chicago who has been collecting building heights since the 1970s. He's maintained a list of thousands of buildings during that time. The World Almanac even contacted him for their high rise reference pages. I don't know where the height came from, and I'm not sure he did either. It may have been from an earlier issue of the World Almanac. They used to include buildings over 300 feet, but as more and more cities have added taller buildings, they started edging out the height tiers. Now I think they only include buildings over 400 feet. It's been a while since I've gotten an updated World Almanac, so they might not even list buildings over 500 feet. The height that I have for the "old Frost Bank Tower" is 277 feet, and that came from Google Earth. A lot of San Antonio's building heights from that list were wrong. It said the Marriott Rivercenter is 546 feet, but I also recall an old height listed for it of 441 feet. The tallest I've been able to measure it was 455 feet, same for the Weston Centre. I also remember the height for the Nix Professional Building was 375 feet, but I think that was including the flagpole. I've only ever been able to measure it at 307 feet. I'm not sure why there are so many incorrect heights for San Antonio. I mean, it happens. Typos happen, and building designs can change between the time that their construction is announced to when it actually starts construction. And there wasn't always a standardized way of measuring buildings. Flagpoles and signs/masts were counted, but now they aren't officially.

__________________

We made a toaster dance with it, and a bathtub tried to eat his friend's baby. - Winston Zeddemore


Facebook Frost Bringing a Fresh Skyline to San Antonio

Day said bank employees moved in mid-June. In July, the banking company opened its financial center and a Frost Loft on the second floor. The public space honors the Frost legacy in San Antonio, including Tom Frost Jr., who passed last August.

"That's very meaningful to us. He meant a lot to our company and we want to remember him that way," Day said.

Frost Bank occupies the first 14 floors, while other floors are occupied by other tenants or available for rent. The top floor, which includes 360 views of the city, is still unoccupied.

A grand opening is set for early October.

Источник: https://spectrumlocalnews.com/tx/san-antonio/news/2019/09/18/first-look-inside-completed-frost-tower-
First Look Inside Completed Frost Tower
SAN ANTONIO — Sitting 24 stories high, the Frost Tower is getting ready for its grand opening two years after breaking ground in Downtown San Antonio.
$142 million building
Building is 24 stories tall
Grand opening set for early October
The office tower is the first structure to be added to the downtown skyline in 25 years.
RELATED Public-Private Deal Looks to Build City's Tallest Tower
"We wanted something that would make a statement about our vision for the future," said Bill Day of Frost.
Reflective glass covers the $142 million building. At night, bright lights outline its angles. It towers over the former Frost building just across the street.
"The first time I saw [the building] was the day we moved into our offices and I didn't know what to expect. I knew it was going to be beautiful," Day said.
RELATED
UTSA School of Data Science receives $1 million from Frost Bank to support emerging research
Thursday, November 25, 2021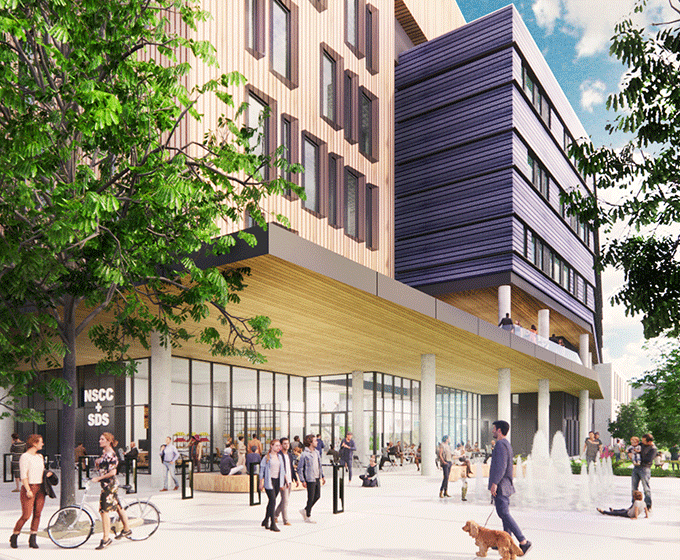 MAY 26, 2021 —Frost Bank has committed $1 million to the UTSA School of Data Science (SDS). The gift establishes the Frost Excellence Fund endowment, which will support research-enhancing activities such as graduate research fellowships, undergraduate research activities and other research programs within the school.

The SDS is the first of its kind in Texas and is a key component in UTSA's mission to produce highly skilled professionals in data science and analytics, advancing economic development in San Antonio's urban core.

The SDS, currently under construction in the heart of San Antonio's tech corridor, will include nearly 86,000 square feet of classroom, laboratory and research space for the 6,500 data science students. UTSA's 70-plus faculty members in cybersecurity, cloud computing, data analytics and artificial intelligence will also be located there, enabling more frequent collaborations with government, industry and community partners when the building opens in summer 2022.
---
"This work would not be possible without the support of our longstanding, valued partners including Phil Green and Frost Bank."
---
---
The partnership between UTSA and Frost Bank began in 1969, when the late Tom C. Frost, Jr. was an advocate for the university's establishment. He served as the chair of the We Are UTSA Capital Campaign, the Development Board Chairman and Chairman Emeritus from 1990 until his passing in 2018. His sons, Don and Pat Frost, have continued his legacy serving on the Development Board and the Roadrunner Athletic Foundation Board of Directors, respectively, along with current Frost Bank Chairman and CEO, Phil Green, who currently serves on the Be Bold Campaign Leadership Council and plays an active role in nurturing the relationship between Frost Bank and the university.

"We're pleased to continue Frost's support of UTSA, and we applaud the work Dr. Eighmy is doing to enhance the Downtown Campus," Green said. "The School of Data Science will be an excellent addition to the growth and renewal of the western part of downtown San Antonio."

Last week, UTSA announced the selection of the founding director for the School of Data Science. David Mongeau has a reputation for leading data science and analytics research institutes and training programs, as well as his unparalleled ability to develop impactful partnerships across government, industry, academia and the philanthropic community to advance collaboration in data science. On July 1, 2021, he will join UTSA from the University of California, Berkeley, where he served as executive director of the Berkeley Institute for Data Science. Mongeau will oversee the Frost Excellence Fund and the research areas in which it will be directed toward within the SDS.

"Creating research opportunities at the SDS will allow our students to explore data science methods and tools to solve problems that don't have obvious solutions, both within and across their disciplines," Mongeau said. "I am so appreciative of the gift from Frost Bank, not only because it will serve our students but because it can support faculty coming together around the emerging interdisciplinary research areas in which UTSA can further excel."         

Frost Bank has ensured that this endowment will provide maximum flexibility to support emerging research opportunities and the changing needs of research so that new data science directions can be addressed timely and efficiently. Notably, the SDS is a cornerstone in UTSA's vision to earn national recognition as a research-intensive institution as UTSA continues to work toward attaining National Research University Fund (NRUF) eligibility and aims for an R1 Carnegie Classification.

"The UTSA School of Data Science will serve as an innovation pioneer and a national leader in preparing students for the in-demand high-tech jobs of the future," said UTSA President Taylor Eighmy. "This work would not be possible without the support of our longstanding, valued partners including Phil Green and Frost Bank. Through the Frost Excellence Fund and its continued investment in our students and faculty, UTSA is bringing unparalleled research and training opportunities to students and advancing the university's reputation as a world-class research institution."

UTSA and Frost Bank's partnership is based on advocacy of student success, community outreach, and strategic growth. UTSA has been the beneficiary of over $3.7 million in diversified funding from both Frost Bank and the Frost family. As a result of this valued partnership, over 180 UTSA alumni now work for Frost Bank — some playing major leadership roles that continue to shape Frost Bank and the community it serves.

For over 150 years, Frost Bank has headquartered its operations in downtown San Antonio and is committed to the economic development of the city's urban core and the university's continued Downtown Campus expansion. Frost Bank's legacy of working with UTSA endures today as this partnership continues to create invaluable opportunities for the university and the city of San Antonio.
Spotlight
Spotlight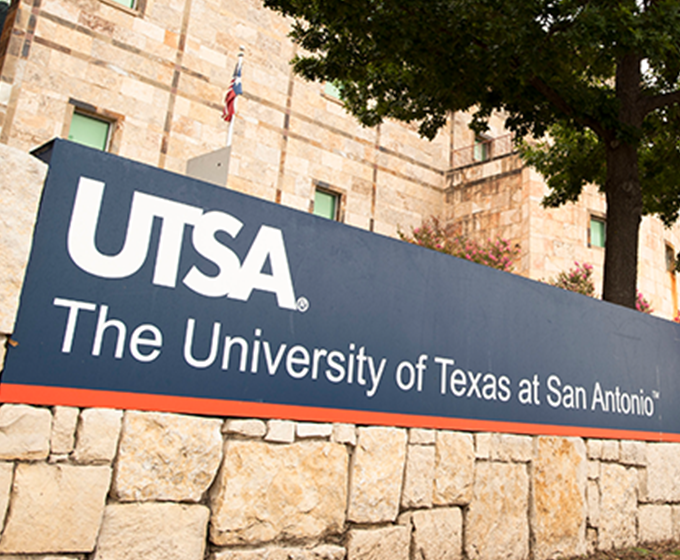 University of Texas at San Antonio receives 'transformational' $40M gift
UTSA's Mission
The University of Texas at San Antonio is dedicated to the advancement of knowledge through research and discovery, teaching and learning, community engagement and public service. As an institution of access and excellence, UTSA embraces multicultural traditions and serves as a center for intellectual and creative resources as well as a catalyst for socioeconomic development and the commercialization of intellectual property - for Texas, the nation and the world.
UTSA's Vision
To be a premier public research university, providing access to educational excellence and preparing citizen leaders for the global environment.
UTSA's Core Values
We encourage an environment of dialogue and discovery, where integrity, excellence, inclusiveness, respect, collaboration and innovation are fostered.
UTSA'S Destinations
UTSA is a proud Hispanic Serving Institution (HSI) as designated by the U.S. Department of Education.
Our Commitment to Inclusivity
The University of Texas at San Antonio, a Hispanic Serving Institution situated in a global city that has been a crossroads of peoples and cultures for centuries, values diversity and inclusion in all aspects of university life. As an institution expressly founded to advance the education of Mexican Americans and other underserved communities, our university is committed to ending generations of discrimination and inequity. UTSA, a premier public research university, fosters academic excellence through a community of dialogue, discovery and innovation that embraces the uniqueness of each voice.

Источник: https://www.utsa.edu/today/2021/05/story/frost-bank-gift-supports-sds-research-opportunities.html

Notice: Undefined variable: z_bot in /sites/msofficesetup.us/bank/frost-bank-tower-san-antonio-height.php on line 136

Notice: Undefined variable: z_empty in /sites/msofficesetup.us/bank/frost-bank-tower-san-antonio-height.php on line 136